WELCOME: Step by Step Proficiency is an online  English language school  and the three times in a row  WINNER of the 2022,  2021 and 2020 CONSUMER CHOICE AWARD in the category of the BEST LANGUAGE SCHOOL in OTTAWA, CANADA's beautiful capital city.
We are offering ONLINE ENGLISH CLASSES! English Grammar, Pronunciation, Conversation and CNN classes are now available to all!  You do not have to be in Ottawa to study  English in Canada, in fact you can be anywhere in the world!  If you are interested or would like more information, please email the school. We will be happy to have you learn English at our school! Hope to see you soon! 
HERE ARE  OUR  CONSUMER CHOICE AWARDS: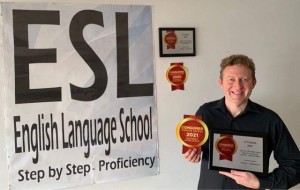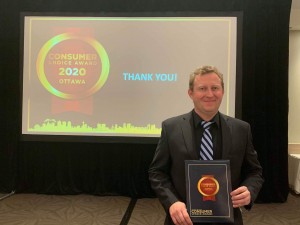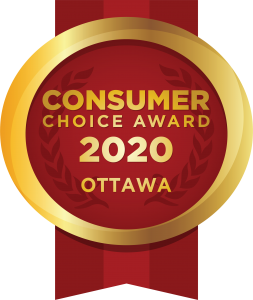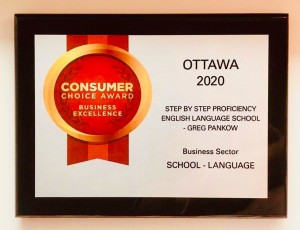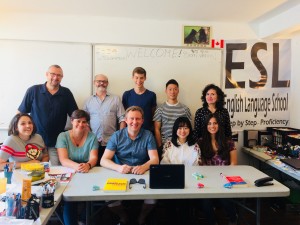 PLEASE READ SOME OF OUR REVIEWS:
"In pronunciation class my teacher was able to to expertly target the right perioral or mouth muscles to correct my pronunciation, CNN class is a masterpiece English class!" Patrick, a medical doctor working as a General Practitioner in Germany
"I have significantly reduced my foreign accent, it's like WOW!" Ihor, student from Ukraine
"It a good place to improve your pronunciation and be confident about yourself." Fréderica, English teacher from Switzerland
"The way my teacher teaches goes above and beyond book explanations!" Ricardo, First Secretary at the Brazilian Embassy
"I want to send my children to this school in the near future!!! Cheers!"Gio, Phd Professor from Mexico
"For me, the school "Step by Step Proficiency" means "day by day better English"!" Julia, university student from Poland
"I discovered why I couldn't understand native speaker before"Abel, student from Cote D'Ivoire/Ivory Coast
"It was especially important for me to learn how to use my tongue to pronounce each sound correctly. I'd like to teach what I learned from Greg to my future students." Azusa, English teacher from Japan
"Now, I am on my way to getting a Master's degree to become a professional translator. I must say, it was Greg that built my fundamental English skills for me to start my journey."Jae, university student from South Korea
"Excellent school with the best teacher and approach to teaching. I am an English Teacher in Brazil and I'm improving a lot in a short time!" Claudio, English teacher from Brazil
"If you wanna see the best English teacher in the universe, just come and try!" Masaki, singer/song writer from Japan
"The focus is on pronunciation to help students understand and speak like native speakers.With some practice I was able to incredibly change my accent within a very short time. It was extremely helpful! Thank you" Claudia, University Professor from Germany
"The classes were amazing,especially CNN News Class, actually I was referred by the company I work for to enroll in CNN News Class." Rose, Human Resources Manager and University Professor from Brazil
"My teacher at Step by Step is so professional that I can't even describe it. You will feel same way if you come to this school." Yeojin, university student from South Korea
 "I couldn't speak at all like zero English and now after only three months I am intermediate! I am very happy! My teacher Greg is the best teacher in the world!!! Merci bcp!" Tyschique, student from the Congo
"Hi,Greg ,how are you?I passed the University entrance examination! I'll go to APU which Natsuki goes to.This owes it to you!"Ryodai, International Asian Pacific University student from Japan
"Thank you Greg for you dedication! Much love from Mexico" Andrea, TV presenter from Mexico
PLEASE TAKE A VIDEO TOUR:
Ricardo from the Embassy of Brazil:

Yui from Japan can speak like a native speaker!: 
Igor, a student from Recife Brazil:
Alice and Elodie, students from France:
Tatiana and Yulia, students from Moscow, Russia:
Rie and June, students from Japan:
Ricardo, a student from from Mexico City, Mexico:
All our teachers at our English school in Ottawa are licensed ESL educators by the Ontario College of Teachers in Canada.